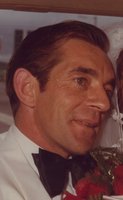 Joseph Yvon "Ivan" Frenette
Frenette, Yvon "Ivan", 74 of Antigonish, passed away peacefully Monday, March 12, 2018 in the R.K. MacDonald Nursing Home.
Born in Bathurst, NB, he was a son of the late Marcel and Exza (Hache) Frenette.
Ivan worked as a roofer in Halifax for a number of years. In Antigonish he worked at St. Martha's Hospital and St. Francis Xavier University in custodial service. He loved fishing, dart tournaments and playing cards and enjoyed the beauty in nature. He thoroughly enjoyed companionship of his favourite feline friend, Buffy.
Surviving are his wife, Anna Marie (DeWolfe) Frenette, siblings, Fernand (Meta), Porter's Lake, Yvette (Joe MacDonald), Clayton Park, Rita (Gerry Keating), Michael (Barb) both of London, Ont. as well as several nieces and nephews.
He is predeceased by sister Cecile (Ralph) Comeau and brothers Leo (Diane), Albert (Rae).
There will be no visitation. Funeral mass 11 am Friday, March 16, 2018 in St. Ninian's Cathedral, Rev. Donald MacGillivray presiding. Burial in the parish cemetery.