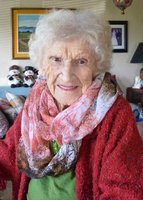 Anna Winnifred "Winnie" MacDonald
MacDonald, Anna Winnifred "Winnie" age 100, was affectionately known as, "The Queen of Lanark", she passed away peacefully at her home on Nov. 10th, 2017 surrounded by her family. She was born November 3, 1917 in Trenton N.S, just before the Halifax Explosion and the beginning of WWI. She was the daughter of the late Elizabeth Eliza (Kennedy) and "Big Dan" MacDonald of Fairmont. Winnie married Hugh A. MacDonald of Lanark on Nov 22, 1937 at St. Ninian's Cathedral, Antigonish.
Blessed with many talents, she was devoted to her family, the Catholic faith, and traditional music.
Winnie, as a decendant of the Bogainn MacDonalds of the Isle of Eigg, was proud of her Scottish roots. She passed love of music onto to her children, grand children, and great grandchildren and taught them many tunes by jigging, melodies or playing them on the fiddle. For many years, she played piano at dances, weddings, picnics, and ordinations in Eastern N. S. with her husband and fiddle player, Hugh A. the "Polka King" and became a key figure in the living culture of Antigonish. Winnie was also the oldest subscriber to The Celtic Life magazine, where she could keep in touch with her heritage on both sides of the Atlantic. A staunch community member, she was an active member of the local CWL for over 80 years, and was recently honored for her years of service in 2017. Many of Winnie's splashy outfits were created and sewn herself and she was known to craft fancy hats that she enjoyed wearing to Sunday Mass. Members of her family were lucky to receive individual and personally knitted gifts created by Winnie. Quilts were often treasured Christmas gifts for her family and she was working on a new quilt into her final days. She was an independent, strong willed, determined woman who worked side by side with her husband Hugh A on their family farm in Lanark, Lot #11, where they raised her family. Her commitment and pride for her home and Antigonish made Winnie a reliable source for regional history and genealogy with a keen memory for names and places. Her quick wit and wonderful sense of humor allowed for great, colorful stories and good laughs. She was very proud of the successes of her family, supporting them all, in the arts, farming, and sports.
She is survived by their children Dorothy, (Dr.Ervin Doak), John Hugh, (Anita MacKenzie), Rosemary (Andre Voyer), Dennis, (Kathleen Milligan), son-in-law Tony MacGillivray, daughter-in-law Ann (MacLellan) MacDonald and sister Mary Florence Matichak, Pennsylvania. She also is survived by twelve grandchildren: Normand, Robert, Bertrand Voyer, Kendra, Sabra, Troy MacGillivray, Heather, Laughlin, Lindsay, Bonnie MacDonald, Cassie Anne, Maggie Jane MacDonald and twelve great grandchildren as well as numerous nieces, nephews, and cousins throughout Canada and USA.
Winnie was predeceased by her husband Hugh A. in 1976 and three of her children, Roy Andre in 1963, Janice Anne MacGillivray in 2005, Daniel James in 2011, brothers Danny, Eddie, Colin Joseph, George and sister Betty Curry, half brothers, Jack and Colin McDonald, half sisters Mamie McDonald, Kate Milbury and Annie Boyd.
The family wishes to thank Rev. Andrew Boyd, Rev. Colin MacKinnon, Dr. Brian Steeves, all of the healthcare providers from St. Martha's Hospital, Palliative Care, VON, and Antigonish and Area Homemakers service.
Visitation Tuesday Nov. 14, 2 - 4 and 7 - 9, in MacIsaac Funeral Home, 61 Pleasant Street, Antigonish, Funeral Mass Wednesday Nov. 15, 11:00am at St. Ninian's Cathedral, Rev. Donald MacGillivray presiding. Burial in parish cemetery. In lieu of flowers, Mass cards welcome, charity of your choice, Canadian Cancer Society or St. Martha"s Hospital Palliative Care.