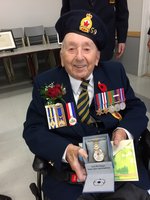 Walter Edward Smith
Smith, Walter Edward, 101, of Antigonish, passed away Thursday, April 26, in the RK MacDonald Nursing home. Born in Amherst, August 10, 1916 he was a son of the late Osborne and Daphne (Blanch) Smith
Walter started his working life in his father's pharmacy in Sydney. He worked at many professions including time with the military during the Second World War, operated a fish plant, farmed and worked for the federal government as an inspector at the port of Halifax. Walter was well known in Antigonish as a member of the Legion and a Justice of the Peace.
He was predeceased by his parents, First wife Gertrude (MacGillvary) Smith, second wife Madeline (Johnston) Smith, sisters Eileen (Smith) MacNeil, and Francis (Smith) Stack and brothers Jack, Gerald, and Lloyd. Also, his longtime neighbor and friend Norm Phee and his good friend Roberta Johnston.
Walter is survived by several nieces and nephews.
Walter will be missed by many including his neighbor and friend Bonnie Phee and her children Tony and Kim. His friends Debbie Tompkins and Sue Smith. Special thanks to the caring staff at the RK MacDonald nursing home. Especially those on Tanglewood and Martha. The special friendships formed between Walter and the staff on these floors made Walters final days happy ones. Also, a very special thank you to his longtime friend Bob Smith for keeping everything running in times of difficulty. The kindness and care shown to Walter by his friend Sheila MacNeil can only be described as above and beyond.
Visitation 2-4 pm Sunday April 29, in MacIsaac Funeral Home, 61 Pleasant St., Antigonish. Funeral Mass 11am Monday, April 30 in St. Ninian's Cathedral, Rev Donald MacGillivray presiding. Burial in the parish cemetery.