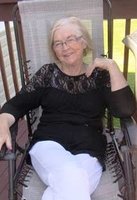 Josephine "Phemia" Marie Sullivan
Josephine "Phemia" Marie Sullivan moved onto a better place on Monday, June 18, 2018. She will be dearly missed by her loving husband of 54 years, Alfie Sullivan, her children, Ian (Maureen) Sullivan, Jolene (Bill) Mahody, and Jacklyn (Shawn) Mercer, and her beloved grandchildren, Carter, Liam, Carys, Lily, Jack, Aidan, Benjamin and Callum.
Home was Phemia's special place. 38 Maple Drive in Antigonish was a gathering place for all. Phemia, the consummate host, warmly welcomed family, neighbors and her children's friends with cheer and spirit. Her home was open to everyone. Christmas Eve was a very special evening; Phemia would prepare for days ensuring there was always fun, food, and laughter. And what a laugh she had. It was infectious. Even as she battled her illness for the past year, her sense of humour prevailed.
She was a selfless and strong woman and a devoted mom and wife. She was so very proud of her three children and their accomplishments. When they were young, her commitment was endless. She drove Ian to early morning hockey practices in her housecoat; perfected Jolene's bun for highland dancing competitions; and brought orange slices and hot chocolate to Jacklyn's cold, Fall soccer games. Phemia and the absolute love of her life, Alfie, enjoyed their retirement to its fullest. They spent cold winters in Florida, where they built a home and made life-long friends. They travelled throughout the United States and Europe, with one of her most memorable moments, a Mediterranean cruise where she visited the Vatican. Phemia was also a second mom to many, including her childrens' friends and the many children she provided care for in her home. She enjoyed watching all of the children she cared for as they grew up, got married and had children of their own.
Phemia was predeceased by father, Joseph MacLean, mother, Mary Ellen (MacLean) MacNeil, step father, Norman MacNeil, and sisters, Kay Armstrong and Tootsie Fraser. She is survived by her siblings Donnie MacLean, Ellen MacDonald, and John "Buddy" MacLean.
Her family would like to thank all of those at Parkland on the Lakes in Dartmouth, Nova Scotia for the loving care they provided "Mom" over the past months.
The family will receive family and friends on Friday, June 22, 2018 from 2:00-4:00pm and 6:00-8:00pm at MacIsaac Funeral Home in Antigonish, Nova Scotia. A funeral service celebrating Phemia's life will be held the following day on Saturday, June 23, 2018 at 11:00 AM at the St. Francis Xavier University Chapel. In lieu of flowers, the family requests that donations be made to the Alzheimer's Society of Nova Scotia.