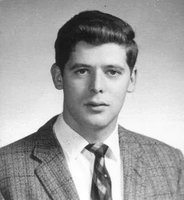 Donald Edward MacNeil
MacNeil, Donnie, "Dixie", 79, passed away at St. Martha's Hospital, Antigonish, on September 8, 2018. He was born in Antigonish and grew up in Cloverville, he was the son of the late Marge and Eddie MacNeil. Donnie lived and worked in various places across Canada and the United States.
He is survived by sister, Donna (Bill) Arnold, Dartmouth niece, Denise, nephew, Darryl, great nieces Alicia, Abbey, Jessica, great nephew, Kevin and, notably, cousins Marian and Bill. Special thanks to those who showed acts of kindness to Donnie, especially to Janice Ross for her support and caring. Cremation has taken place. No visitation. Funeral Mass 11:00 am Friday, September 14, 2018 in St. Ninian's Cathedral, Antigonish. Burial in the parish cemetery. In lieu of flowers, donations may be made to the Canadian Cancer Society.
"My Guide, My Brother" by sister Donna
He lived on the farm where we were raised, many hard times but many good days.
He played the piano with never a lesson. Thinking back now it sure was a blessing.
When we were kids, my guide, by brother, Just the two of us, there were no other.
In later years still, loved Cloverville, its peace and quiet, and to be alone it was quite alright.
A beer in his hand and a smirk on his face, he looked so content, when in his own place.
So grumpy at times but deep down a big heart, he wanted to be good right from the start.
Took pride in his work when feeling well, but didn't say much so no one could tell.
Watching the weather and on the right date, he planted his garden with every row straight.
His cooking, baking was perfect when he felt right, giving it away to all in his sight.
"The Lord is good!" I heard him say, it was one of those days when everything was okay.