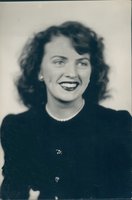 Sarah Eleanor Chisholm
The family of Eleanor Chisholm are saddened to announce her passing on November 10th, 2018 at St Martha's Regional Hospital. Born October 22nd, 1924 in Antigonish, Eleanor was the daughter of the late Roderick Allen and Marcella (Dunn) MacDonald. She graduated from Mount St Bernard Secretarial School in 1942. During her life time she worked for Mt&T, Albert E. Whidden, Pat King Real Estate and Mary Pat Real Estate. Eleanor was a woman of wit and wisdom. She always knew what to say and never had an unkind word to share. She prayed daily for those she loved.
In 1948 she married her husband Colin Herman and together they raised a family. Eleanor loved the Town of Antigonish. She enjoyed her time with the Keppoch Mountain Ski Team when the children were younger. Many summers were spent at the cottage on Lochaber Lake where family and friends were always welcomed with Eleanor's famous hospitality.
Eleanor filled her home on Hillcrest Street with love and laughter surrounded by her beautiful art. She had a keen eye for design. She enjoyed a great game of duplicate bridge. Her enthusiasm for sports was something she loved to share with all who came to her home. She especially loved to watch her Yankees, Montreal Canadians and Tiger Woods. Later in life she was introduced to the iPad. She took to it naturally, allowing her to keep up to date with world events, sports scores and stay connected with her family.
Eleanor is survived by her children Mary Beth (Brian) Latwaitis, Coline Morrow, Eleanor (David) Carnell, Colin H (Janet) Chisholm and Bruce (Keturah) Chisholm and her daughter in law Cindy Allen. She will be greatly missed by her grandchildren Katherine (Jason) Orlik, Stephen (Jill) Latwaitis, John (Kristin) Morrow, Charles (Lindsay) Morrow, Andrew (Lauren) Carnell, Colin (Cari-Lee) Carnell, Alex (Dave) Gens, Nicole (Matthew MacDonald) Chisholm, Eleanor Chisholm, Patrick (Amanda Griffin) Chisholm, Bijou Allen and London Grace Chisholm; great grandchildren Lowen and Gregor Orlik, Ashton Latwaitis, Kate and David Morrow, Olivia and Abigail Carnell and Everley and William Carnell. She was predeceased by her husband Colin H. Chisholm (1994), her daughter Joanne (1952) and her son Brock (2007). Also, by brothers Roland (Marge) and Charles MacDonald and her sister Pauline (Norman) Brady.
There will be no visitation by request. A funeral mass will be held in St. Ninian's Cathedral on Saturday, November 17th at 11:00 am. In lieu of flowers, donations in her memory may be made to St. Martha's Regional Hospital Foundation or the VON. The family would like to thank Dr. Mary Gorman, the staff at St Martha's, and the VON for their incredible care and compassion.
"I love my children the most."