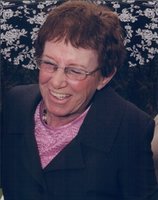 Mary Margaret MacDonald
Mary Margaret "Dodie" MacDonald, 69, of Mac Aras Brook, Antigonish County, passed away peacefully, Friday, November 23, 2018 in St. Martha's Regional Hospital. Born in Antigonish, she was a daughter of the late Jim and Annie (MacEachern) MacDonald.
Dodie spent many years working at Lismore Seafoods. She enjoyed the outdoors, gardening and spending time with her beloved fur babies, Molly, Tuxie, Emey and Cuddy.
Her beautiful life will be forever cherished in the lives of her family.
Surviving are brother Bernie (Laurel), New Glasgow, sisters Carole (Ernie) Connors, Bayfield, Cathy (Ed) Brown, Mac Aras Brook, sister-in-law Anne, The Keppoch, nieces Shelley, Denise, Jillian, nephews Jimmie, Mark, Gerry and Paul.
She was predeceased by brother Donald.
There will be no visitation, Funeral Mass 11:00 am Tuesday in St Margaret of Scotland Church, Arisaig, Rev. Colin MacKinnon presiding. Burial in the parish cemetery.