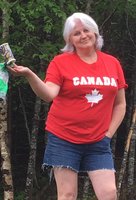 Anita Catherine LeBreton
Anita Catherine (McGraw) LeBreton, 57, of West Side Indian Harbour Lake, Sherbrooke, formerly of Fall River/Bedford, passed away Monday, November 26, 2018 at home. Born in Tracadie, NB, she was a daughter of the late Gerald and Émilienne (Breault) McGraw.
Anita was very passionate about her family and her pets. She spent her days gardening, painting, kayaking and sewing. She had a passion for photography, and loved capturing the beauty of nature and taking lots of photos of her beloved animals. She was strong and fearless, and this she proved time and time again. She will remain lovingly in the hearts of her family forever.
Surviving are husband, Richard; daughter, Lisa (Darrell Davidson), Halifax; sons, Steven, Sackville, NS and Christopher (Tammy), Edmonton, grandson, Conner LeBreton; brothers, Bernard, Emile, Sylvio, O'Neil and Claude McGraw; sisters, Geraldine Marmus, Sue, Ginette McNeilly and Joanne Jackson; many nieces and nephews. She was predeceased by brothers Lawrence and Laurie McGraw.
There will be private family service. Burial will take place in spring.