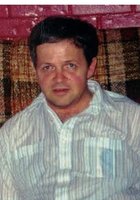 Hugh Vincent "Hugh V" Gillis
Gillis, Hugh V, 61, of Riverview Adult Residential Centre, Riverton, Nova Scotia, passed away peacefully on December 18, 2018. Born November 30, 1957, Hugh V was the son of the late Joseph "Joe" and Jean (Chisholm) Gillis of Clydesdale.
Hugh V is survived by his son Ryan and dear friend and former wife, Mary (Bekkers) Smith, Clydesdale; sisters Mary (John) Murphy, Clydesdale, and Claire (Alphonse) Juurlink, St. Andrews. Hugh V is also survived by several nieces, nephews, cousins, other relatives and friends. He was predeceased by his sister, Anne Cusack.
A moment in time had marked much change in Hugh V's life. In his loving memory; we remember all the good times before and after this time. As a graduate of the Antigonish Regional High School, Hugh V was employed in the X-Ray Department at St. Martha's Regional Hospital. Always entertaining with his quick and witty sense of humor, Hugh V is fondly remembered for his appreciation for classic rock music, his love of dogs, and unwavering support to his Montreal Canadiens hockey team.
There will be no visitation. A funeral mass will be held on Saturday, December 22, 2018 at 1:00 p.m. in St. Ninian Cathedral, Rev Donald Mac Gillivray presiding. Burial at a later date. Donations may be made to the Riverview Adult Residential Center or a charity of choice.
A most heartfelt thank you to the amazing team at Riverview Adult Residential Centre. The compassion, care, respect and company that you provided to Hugh V will forever be appreciated by our family. Words cannot express how grateful we are for your kindness and generosity. Thank you so much for being there for Hugh V in friendship and care.