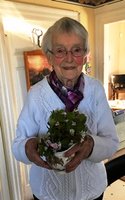 Kathleen Christene "Kitty" MacFarlane
In sadness at her death and with gratitude for her long life, the family of Kathleen Christene "Kitty" (Connors) MacFarlane, 94, of Williams Point, Antigonish County announces her passing on January 19, 2019.Born on July 24, 1924, she was cherished by her husband the late Frank MacFarlane, her 10 children, 26 grandchildren, 23 great-grandchildren, several godchildren and countless family and friends. Our rock and our centre, Mom selflessly provided love, support, encouragement, food and a welcoming, happy home.
Kitty is survived by her children, Joe (late Dianne), Janie (Doug Covey), Bernice, Lynn, Beverly (Elliott Anderson), John A (Roma), Ronald (Claudia), Bill (Ann) and Peggie (Joe MacLean). She was predeceased by her husband Frank, daughter Brenda, daughter in-law Dianne MacFarlane, and sons-in-law Bill Teasdale, Don Bowering and Bob Wakefield.
Born and raised in Bayfield, Kitty was the last surviving member of her immediate family. The daughter of the late Alice (Chisholm) and John Connors, she was predeceased by sisters Betty McKeough, Annie MacGillivray, Mary MacGillivray, and brothers Reg, Eugene, Dan Connors and three brothers in infancy. Kitty was the last member of the generation of the Connors and MacFarlane families. Her passing marks the end of an era.
After raising her family, Kitty pursued bookkeeping training and worked at The Fabric Tree, Speedy Propane and MacDonald's Drug Store. She was a founding volunteer at the Opportunity Shop and was actively involved with the Catholic Women's League and Club 60 in Antigonish.
Kitty also enjoyed travel in her later years, and had many happy memories of annual trips with her sisters, along with travel within Canada, the USA, Ireland, Scotland and Italy. She especially enjoyed numerous Anna McGoldrick tours.
Throughout her life, Mom was a gifted seamstress as well as a wonderful cook, baker, quilter, knitter and ceramic crafter. An avid card player, she was never known to turn down a game of auction, 45's or bridge. Without question, Mom was the queen of our hearts: her values, faith, grace, humility and kindness will forever guide us. We were fortunate to enjoy her presence and her love for so long, and she will be forever missed.
Visitation will be held on Tuesday, Jan 22nd 2-4 PM, 7-9 PM., in MacIsaac Funeral Home, 61 Pleasant St., Antigonish. Mass of Christian Burial Wednesday, Jan. 23rd, 11 AM St. Ninian's Cathedral, Rev. Donald MacGillivray presiding. Burial in the parish cemetery
.
Memorial donations may be made to St. Martha's Hospital Foundation or to the charity of your choice. www.MacIsaacs.ca