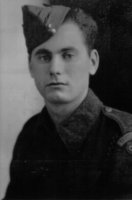 Clifton Anthony LeBlanc
The family of Cliff mourn the loss of a loving husband, father, grandfather and great-grandfather. He passed away on St. Patrick's Day, March 17, 2019 in the Veteran's Unit in St. Martha's Regional Hospital, Antigonish.
Born in Alder Point, Cape Breton on April 1, 1921, he was the seventh child of the late Pascal and Margaret (McGrath) LeBlanc.
He left school at an early age to work in his father's coal mines. Later he started a coal delivery business and a small grocery store on land he purchased next door to this father. While he had people running the truck and store business for him he went to work on the SS Acadia, a former hydrographic surveying and oceanographic research ship in Newfoundland. He was the last known crew member from before the war. The ship is now in The Museum of the Atlantic in Halifax.
When the war began he enlisted in the army and went overseas until the war ended. Upon return, he sold his trucks. He also sold the store to his cousin. He and his cousin Roger LeBlanc moved to Welland, ON where he worked in a steel plant for six years. After being laid off, he went on a tour of the United States and Florida with some friends.He then returned home to Alder Point and drove taxi for a year and a half as well as fishing lobster and swordfish with George Forest. In 1955 he moved to Toronto where he met Margaret Delorey from Merland,NS. They were married on July 18, 1959.
He started a home remodelling business in Toronto which he ran for seven years. They moved back to Nova Scotia in Sept. 1966. They had two children, Sharon, born in Toronto in 1962 and Shane, born in Antigonish in 1969. While living in Afton he did carpentry work on Tracadie School, the Heavy Water Plant and Gulf Oil refinery in Port Hawkesbury. Later he worked in Christmas tree yards, supervised clearing of blueberry fields, also taught upholstery and organic gardening classes for continuing education. He has been retired for 37 years.
His favourite hobby was gardening. He also enjoyed skating, roller skating and bowling, as well as going to dances with the Country Diamonds and a good game of auction 45 at Tee Pee 38 in Beaverbrook Trailer Court.
He is survived by his wife of 59 years, Margaret, daughter Sharon (John) Stegeman of Cranbrook, BC, son Shane, at home. Three grandchildren; Natasha (Ryan) Lewis, Fredericton NB; Michael (Kaitlyn) Tattersall, Smither's, BC; Lisa Tattersall, Kelowna, BC and three great grandsons; Jaedan and William Lewis, Fredericton, NB and Rueben Tattersall, Kelowna, BC, one brother, Chester (Muriel) LeBlanc, Lower River Inhabitants, CB.
Besides his parents and parents-in-law, James and Mary Delorey, he was predeceased by seven sisters and four brothers; Mary (John) Carfotes, Cape Cod, USA; Evelyn (Wilbert) Theriault, Alder Point; Bernard, killed in Italy in 1944; Strickland (Maydelle); Frances (Nat) Barrie, Oro Station ON; Mildred (Joseph) Dooley, Halifax; Lawrence, Alder Point; Marguerite (Adrian) Barrie, Sydney Mines; Clifton, Theresa and June in infancy. He is survived by many nieces, nephews and cousins as well as three sisters-in-law and six brothers-in-law.
The family would like to extend a very special thank you to the staff at St. Martha's Hospital for the great care he received over the past number of years as a patient and as a resident in the Veteran's Unit for the last year and a half. Special thanks to Dr. Michelle Murphy, a great doctor and friend for many years, also to Dr. Miles and Dr. Gallant. We would also like to thank the staff at the VG Site, QEII for their care of Cliff.
Visitation will be held in MacIsaac Funeral Home, 61 Pleasant St., Antigonish on Sunday, March 24 from 2-4 and 7-9 pm. The remains will be transferred to St. Anne's Church in Alder Point, Cape Breton where there will be visitation after 11:00am until time of funeral at 2:00 pm. Burial in St. Joseph's Cemetery, Bras D'Or at a later date.
Family flowers only please, donations may be made to St. Martha's Hospital, the VON Antigonish, St. Anne's Church, Alder Point or St. Joseph's Cemetery, Bras D'Or. www.MacIsaacs.ca