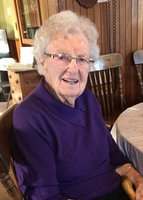 Mary Gertrude "Mary "Tommy"" Chisholm
In her 101st year, Mary Tommy has played her last game of cribbage and her fan club has picked her cards off the floor for the last time..
Our mom who was so deeply loved passed away peacefully surrounded with the love and support of her family in the Aberdeen Hospital, New Glasgow.
She was a woman of great faith, a proud member of the St. Andrews CWL and just recently received her 80 year pin. Her life focused around being and doing good, a light hearted soul who was as easy as a Sunday morning and always truly young at heart. Throughout her life, she was always grateful for every moment and felt blessed by every person she met. Never an unkind word for anyone, Mom was a very gentle woman, selfless, loving and loyal with a sense of fun that ensured her multi-generational family enjoyed every opportunity to spend time in her company.
She took great pride in thriving in her family homes including the Big Brook in Dunmore, Meadow Green, and the village of St. Andrews. She loved entertaining, always having tea on the stove and home cooked food on ready supply, especially her oatcakes, molasses bread and butterscotch pie to name a few. No one ever left with an empty stomach.
She preferred the road less travelled even when that road was presented with potholes and obstacles. The rosary, the crib board, the Flyers, the Leafs, the flower gardens and "The Captain" were held in the highest esteem.
She will be missed more than she could ever realize; but, we are happy to see her released from the limitations of age. Over her 100 years and in a million ways, the farm girl from Meadow Green achieved a great life of purpose, honor, compassion and humour. She made a difference and we loved her. We will miss her.
She was the daughter of the late Angus H. and Ann Elizabeth (Bessie) MacIsaac MacPherson of St. Andrews. Predeceased by her husband Thomas Joseph, brothers Judge Hugh J. and Harold E. MacPherson, her sisters Kathleen MacDougall and Bernadette MacPherson, her foster sister Mary Lou (Hewer) Trump, sisters-in-law Jean C. MacPherson Q.C. and Gertye MacPherson and brother-in-law Lorne MacDougall. Also reunited with her children Joseph and Christine in infancy, Jessie Eileen, Gerald, Roddie, son-in-law John MacIsaac and grandchildren Gregory Boyd and Boyd Chisholm.
Lovingly remembered by her children Maureen (Archie) Boyd, Hugh James, Kevin (Leslie), Kathleen MacIsaac, Duncan (Gwen), Tom (Kathy), Harold (Claire), Mary Eileen, Daughters-in-law Cathy and Erdine Chisholm as well as foster brother Louis Hewer (Marie Ayre) and many nieces and nephews. Also her treasures, 22 beautiful grandchildren and 26 loving great grandchildren.
One Blessed Family – all because of you.
Visitation is Friday April 12th 2-4 PM and 7-9 PM in MacIsaac Funeral Home, 61 Pleasant St., Antigonish. Mass of Christian burial will be held Saturday, April 13th at 11:00 AM in St Andrews Church, St. Andrew's, Antigonish Co., N.S..
Donations in Mary's memory can be made to the Antigonish CACL.
In Mom's words, "My time has come…I have had a great life; I am grateful for all that has been. I have savored much. I am at peace."