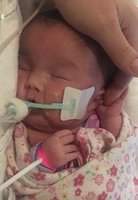 Mary Catherine Chisholm
Mary Catherine Chisholm blessed us with her presence on April 8, 2019 in Alberta. Although her time with us was brief, it was full of love. She was a gift who taught us the power of unconditional love, compassion, and gratitude for the beauty this life has to offer. She bravely stayed in this world despite her body being limited by a rare genetic condition. Her powerful spirit deeply touched the family and everyone who met her. She earned her angel wings on May 4, 2019 entering heaven peacefully while in the arms of her mother and father.
Her memory will be honoured by parents Tom and Robyn (Sullivan) Chisholm, siblings Gerald and Valerie, grandparents Cathy Chisholm, Ashdale and Jack and Valerie (Mattie) Sullivan, Antigonish, as well as her many aunts, uncles, cousins, and extended family. Mary Catherine was preceded by her paternal grandfather Gerald Chisholm.
There will be no visitation. Funeral Mass will be held in St Joseph's Church, St. Joseph's on May 10 at 2:00 pm, reception to follow. In lieu of flowers donations may be made to the Ronald McDonald House Charities. www.MacIsaacs.ca