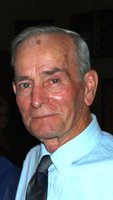 Leo Everett Pellerine
Leo Everett Pellerine, 83, of Merland, Antigonish Co., passed away peacefully in the RK MacDonald Nursing Home, Antigonish on Sunday, June 9th. Born in Tracadie he was a son of the late James and Mary (O'Brien) Pelrine. He was employed as a welder with Trenton Works for many years. He enjoyed fishing, cutting and stacking wood and carpentry work. The love of his life was his grandchildren, whom he loved dearly.
Left to mourn are his children, Mona, Merland; Roddie (Carolyn), Havre Boucher; Clifford (Donna) and Leon Kingston Ont.; Brian, Merland; grandchildren, Jessica (Theo) and Dakota Osmond; Justin (Carrie) Pelrine, Tyler Pelrine, Koryssa (Cody) Leaver, Luka and Saule Pellerine, great grandson, Cooper; brother, Lawrence and daughters-in-law Clare and Oksana and friend Darrell. He was predeceased by his wife of over 50 years Dianne (Halloway); children Michael, in infancy, Linda and Jody; brothers Jimmy, Michael, William, Charles, Patrick, Ambrose and Roddie; sisters Agnes Bowman, Alice Bonvie and Margaret Pellerine.
He will rest in St. Peter's Place, Tracadie on Friday from 2:00-7:00 pm with funeral mass on Saturday at 11:00 am in St. Peter's Church, Tracadie, Rev. John Barry presiding. Burial to follow in the parish cemetery. Donations may be made the Alzheimers Society. www.macisaacs.ca