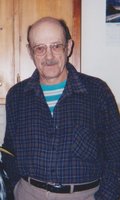 Louis Arthur Venedam
Louis "Arthur" Venedam, 83 of South Side Harbour, Antigonish passed away on Saturday, August 31, 2019 in St. Martha's Regional Hospital.
Born in Pomquet on March 22, 1936 he was a son of the late Leander and Mary Marceline (Doiron) Venedam. His mother passed away when Arthur was two and his brother, Joe, was five. They were lovingly raised by their paternal aunt Agnes and her husband Francis Doiron as well as his father who all predeceased him.
He lived most of his life in South Side Harbour as a farmer and pulp cutter. He will be remembered for living life simply, enjoying drawing, colouring, listening to music, watching Blue Jay games, and playing cards. He was never married but had a special companion, Diane Doiron, who predeceased him. He loved two special children who were like his grandchildren, Kenzia and Remington Doiron.
He will be missed by nieces Connie (Richard) Venedam-Marchand, Patricia Venedam, nephew Francis (Wendy) Venedam, and special friends Cory Doiron and Tulsa Timmons.
Special thanks to Dr. David Cudmore for providing medical care throughout his life.
In accordance with his wishes, cremation has taken place. A Funeral Mass will take place on Saturday, September 7 at 11:00 am in Ste. Croix Church, Pomquet. A reception will follow in the parish hall. Family flowers only, donations may be made to the Ste. Croix Cemetery Fund. www.MacIsaacs.ca