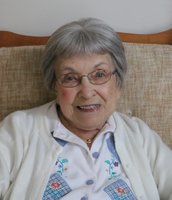 Mary Doris MacDonald
Mary Doris MacDonald, RK MacDonald Nursing Home, Antigonish, formerly of Dolorosa Ave. and St. Andrews, passed away peacefully in St Martha's Hospital, Antigonish, on Saturday, November 23, 2019. Born in Watertown, Massachusetts, on November 25, 1925, Mary was the eighth of Emilio and Pellegrina (Parella) Migliaccio's 10 children and was the last surviving member of her immediate family.
Mary's parents emigrated from the province of Avellino, Italy, to the United States in 1920. Upon completing her secondary education in the Watertown school system, Mary worked in the office of a local textile factory. She later accompanied a co-worker on a vacation trip to Nova Scotia, where she met the love of her life, Hugh Joseph "Joe" MacDonald, Salmon River Lake, Guysborough County. Mary and Joe were married at St. Patrick's Church, Watertown, on August 16, 1952.
The couple resided at Bass River, Shubenacadie and Stellarton before moving to Antigonish in 1963, and later relocated to St. Andrews. While Mary briefly worked in the Family Services of Eastern Nova Scotia's Antigonish office, she devoted the majority of her time to raising her children and looking after her family's needs. She particularly enjoyed handcrafts and created an impressive collection of needlework portraits over the years. In later life, crocheting was a favourite pastime.
Quiet, caring and unassuming, Mary never sought attention or acknowledgment. Rather, she constantly expressed her gratitude to others—family, relatives, friends and most recently members of the RK staff—for their visits, phone calls, and daily chats.
Besides her parents, Mary was predeceased by her husband Joe; brothers Emilio, Felix, and Anthony "Tony"; sisters Angelina "Angie" Morizio, Antoinette Simeone, Anna Boschetto, Eleanor Ferraro, Rita Ferraro, and Eva Aubert. She is survived by three children—Bruce (Ann), Antigonish, Scott (Chris), London ON, and Angela (Tim Forbes) Steeves, Parrsboro; 15 grandchildren and 17 great-grandchildren.
Visitation Thursday, November 28 from 2:00 to 4:00 pm and 7:00 to 9:00 pm in MacIsaac Funeral Home, 61 Pleasant St., Antigonish. Funeral mass 11:00 am Friday, November 29, St. Ninian Cathedral, Rev. Donald MacGillivray presiding. Burial in the parish cemetery. In lieu of flowers, memorial donations may be made to the RK MacDonald Nursing Home Foundation or a charity of choice. www.MacIsaacs.ca