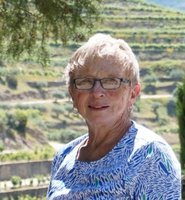 Mary Lou Boyd
It is with heavy hearts that we announce the death of Mary Lou Boyd, 70, of Morristown, in St. Martha's Regional Hospital, Antigonish, on February 12, 2020.
Mary Lou grew up in Antigonish and after graduating from St. Francis Xavier University with a B.Ed. in 1972, she became an elementary school teacher. She spent over 30 years teaching in Dartmouth where she acquired many lifelong friends. After her retirement in 2004 she returned to Morristown where she kept a beautiful garden, and hosted many get-together's for family and friends. Discussions at the book club she hosted on Friday nights were wide-ranging and lively.
She became an active volunteer with St. Martha's Hospital Ladies Auxiliary and the MiniTrail Community Center. She especially enjoyed preparing the children in her area for First Communion volunteering as a religious education teacher for St. Columba Parish. She enjoyed playing cards and was a regular at the weekly 45's game at the MiniTrail Center and elsewhere.
Mary Lou is survived by her sister Myrtle (Wilfred) MacDonald, brothers Daniel (Monica), Lloyd (Dolores), Port Elgin Ont., and John (Anne) as well as numerous nieces and nephews. She was predeceased by her parents, Shaw and Margaret (MacInnis) Boyd. A special thank you to Dr. Cudmore and the nursing staff of PCU and Palliative Care at St. Martha's Hospital, and to Mary Lou's close friends, Patsy and Andrea, for their care during her illness.
Cremation has taken place. Funeral service will be held on at 10:00 am on Monday, August 3, 2020 in St. Columba Cemetery, Lakevale, Rev. Andrew Boyd presiding. Donations in her memory may be made the St. Martha's Hospital Ladies Auxiliary or a charity of choice. www.MacIsaacs.ca