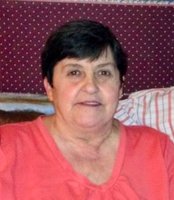 Virginia Mary Durley
It is with great sadness that I announce the death of my soulmate and best freind, Virginia Mary Durley, 66, of Tracadie, daughter of the late Victoria Mary and Clifford James Boutilier, on May 16, 2020 in St. Martha's Regional Hospital, after a lengthy battle with COPD and cancer.
She is survived by the love of her life, husband Bobby, sons Jamie (Barb) and their son Colten, the apple of Mema's eye, Victoria, BC; Brian, Tracadie and Tony (Raelene), Calgary, AB, sisters Lorraine Isenor, Prince George, BC and Karen (Brian) Hallett, Sherbrooke, NS, brothers, Sherman (Jean) Boutilier, Truro, Dawson (Barb) Boutilier, Prince George, BC and Karl (Shelley) Boutilier, Fort St. John, BC. She is also survived by her chosen brother, George (Stella) McNeary, Bridgewater, N.S, earth angel, Angie Connors, Bayfield, N.S, as well as many nieces and nephews. She was predeceased by brother, James Boutilier, sisters, Marilyn Cantfell, Sharon Singer and three infant sisters, Glenda, Lillian and Estelle.
Cremation has taken place under the direction of MacIsaac Funeral Home, Antigonish. A celebration of life will be held at a later date. Donations in Virginia's memory may be made to Antigonish Town and County Palliative Care Society. www.MacIsaacs.ca