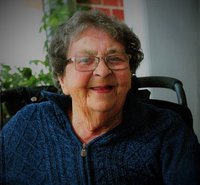 Mary Margaret Grace
Click here to view funeral service: https://youtu.be/q7C0Ifa4myY

It is with deep sadness that we announce the passing of our dear mother, grandmother and great-grandmother, Mary Margaret Grace on June 2, 2020.
Born in Croft, Antigonish County, she was the daughter of the late Patrick and Elizabeth (MacGillivray) O'Connor.
Mama's life was spent in deep devotion to good St. Anne, always relying on her grace to help her through life and any challenges she may have faced. She will be forever remembered for her wonderful biscuits, homemade bread and her beautiful homemade knitting. She loved to share what she had, no one left her home without a good cup of tea. She was generous, kind, humble and saw everyone as equal. Mom loved to write in her journal, spending many hours in quiet, recording her day-to-day activities, which she knew we would all enjoy some day. She taught us to give without wanting and to share generously with others. We will carry the faith that you instilled in us, each and every day.
She was predeceased by her husband of 59 years, Leonard; infant son, Lawrence Joseph; brother, Ambrose O'Connor; brothers-in-law Lou, Albert, and Charlie; sisters-in-law Margaret MacDonald (Peter), Annabelle, Kathleen and Annie Grace.
Left to mourn are her 11 children John, Ann, Bertha (Colin), Anthony (Rose), Margaret, Lawrence (Andrea), Mary, Karen, Kathleen (Michael), Donna (Aloysius) and "her angel on earth" Colleen.
Mama treasured her children and embraced every moment with them. She especially loved her role as a Nana to her grandchildren and great-grandchildren.
There will be a private family visitation with a private funeral mass and burial in St. Andrew's Cemetery, St. Andrews. Donations in her memory may be made to Our Lady of Grace Monastery, 940 Monastery Road, Monastery, Nova Scotia B0H 1W0. www.MacIsaacs.ca
Until we meet again, may God hold you in the palm of his hands.