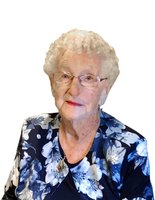 Kaye Fraser
We regret to announce the death of Catherine (Kaye) Fraser of Fraser's Grant. She passed away peacefully on June 14, 2020 in the palliative care unit of St. Martha's Regional Hospital at the wonderful age of 98 years. Kaye was the last surviving member of her immediate family.
Born in Fraser's Grant on January 23, 1922, she was the third oldest born to Alexander A. MacDonald and Jennie Chisholm. She earned a teaching diploma from Normal College and taught in several local schools. She taught all grades and subjects, including Latin and French.
Mom married the love of her life, John D, and they spent 49 happy years together until his death in September, 1994. They worked hard dairy farming, raising eight children and tending to sick relatives. Their home was open to all, the more the merrier, always ready to have tea and "a bite".
Mom was active in the community and parish. She was a Charter and active member of the CWL, having held the positions of President and Secretary. She was proud of having received her 65-year pin last year. She was a founding member of the Heatherton Activity Centre and the Heather Club 60, having held the position of secretary for both.
She is survived by her children Hyland (Harriet) Stony Plain, Alberta; Lloyd (Paula) Sherwood Park, Alberta; Marie Brien ,(Pierre) Winnipeg; Barbara MacIsaac (Aeneas) Burlington; Anthony (Gail Murphy) Heatherton; Laverne, Fraser's Grant; Joyce Dobbin (Jerry) Fraser's Grant; and Gregory (Janice) William's Point. She is also survived by 29 grandchildren, 39 great-grandchildren, and 3 great-great-grandchildren. She is also survived by two sisters in law; Florence Mac Donald and Libby MacDonald.
Besides her husband and parents, she was predeceased by four brothers; Allan Joseph, John, Monsignor Donald, Chisholm and three sisters; Anna Tate, Mary Margaret Chisholm, Genevieve Chisholm, and a great-grandson Matthew Crowston.
Mom will be dearly missed by many. She was a woman of deep faith, who loved her family but cherished and reveled in the accomplishments and uniqueness of every grandchild.
There will be a private visitation and funeral mass. Burial in St. Mary's Cemetery, Heatherton. Donations may be made to the St. Mary's Cemetery Fund, P.O.Box 24 Heatherton, NS B0H 1R0.