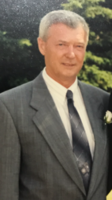 Daniel James Murphy
To view funeral service please click on link. https://youtu.be/ZUwezCHeSP0
It is with heavy hearts we announce the passing of Daniel James (Dan) Murphy of Ohio and formerly of Big Island Merigomish and Antigonish on July 1, 2020 in St. Martha's Regional Hospital. Born in Antigonish on January 21, 1940, he was a son of the late Omar and Marie Murphy.
Dan married the love of his life, Nasha Joosten and together they raised three sons. Dan and Nasha moved from Ohio to Big Island in 1990 where they enjoyed living by the ocean. In 1995, he lost his beloved Nasha to cancer and life would never be the same.
In his early years, Dan worked throughout many provinces in Canada as a construction welder. In 1982 he accepted a position with Northern Pulp in Pictou County where he worked until his retirement.
Dan stayed in Big Island until his health made it challenging to continue living there. In December, 2017 he moved closer to his family, residing in Antigonish.
He is survived by his sons, Jerry (Shelley), Ohio; Sean (Joanie), Fraser's Mills; Darren, Antigonish; two loving granddaughters, Brett and Camryn; brothers George (Doreen), Windsor, Ont.; Joe (Theresa), Ohio; Greg (Georgina), Pitchers Farm; sisters Sadie Boyd, Antigonish; Claire Burrell, Enfield; Frances (Archie) MacKenzie, Morristown; Helena DeCoste, East Tracadie; Linda (Lorne) Teasdale, Maryvale; sister-in-law Margie Murphy, Windsor, Ont. and several nieces and nephews.
Besides his parents he was predeceased by his brothers Peter and Jerome, brothers-in-law Charlie Boyd and Harry DeCoste and sister-in-law Betty Murphy.
Cremation has taken place. A funeral service will take place Tuesday, July 7 at 11 am in St. Joseph's Cemetery, St. Joseph's. Burial in the St. Joseph's cemetery. Donations may be made to the Canadian Cancer Society. www.MacIsaacs.ca