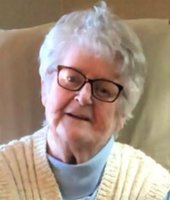 Charlotte MacIsaac
Mom was born in Antigonish on November 11,1938 to Leo and Violet (Burgey) Roberts of Ballantyne's Cove. She graduated from St. Martha's School of Nursing in 1961, working for many years at the Bethany Motherhouse of the Sisters of St. Martha. She married her sweetheart, Allie MacIsaac, in 1962. She was a great mom who loved her children and grandchildren dearly, and was close with her siblings with whom she'd share a good story and laugh.
Charlotte was an active member of St. George's Church and her community. She was blessed with many good friends and neighbours. She enjoyed arranging flowers for the church and gardening, in general, as seen by the beautiful plants around her home. She also enjoyed the comradery that came with her weekly bridge games.
She is survived by her children, Stuart (Kathy), Georgeville; Yvonne, Brook Village; Tracy (Bernie), Big Pond; Archie (Helen), Georgeville; siblings Dona Grant, Allan (Beverly) Roberts; Marguerite (Joe) Birett; grandchildren Allison, Jenna, Connor, Hannah, John; sister-in-law Marie MacIsaac; brother-in-law Bernie MacIsaac as well as many nieces and nephews and their families. She also will be missed by her furry friends Abby and Hannah. She was predeceased by her husband Allie, siblings Yvonne, Larry, Rankin, Leona, Nancy and sister-in-law Joan.
A special thank you to the nurses at the palliative care ward. She certainly appreciated their compassion and kindness.
There will be no visitation. A public Funeral Service will be held on Friday, July 24 at 10:00 am in St. George's Cemetery, Georgeville, Rev. Andrew Boyd presiding. Burial to follow. Memorial donations may be made to the Antigonish Community Food Bank.