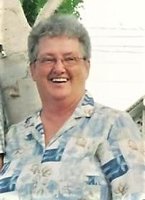 Berndette Annabelle MacPherson
Berndette passed away peacefully at Aberdeen Hospital. She was ready to join her husband, Doug. Berndette was predeceased by her husband, Doug and is survived by her five loving daughters, Brenda (Brian Axford) Comox, BC; Karen (Barry Morris) Calgary, AB; Emily (Rick Delaney) Brooklin, ON; Lori (Mike Connors) Mississauga, ON; and Donna (Jean-Claude Landry) Orleans, ON as well as six grandchildren. (Ashlee, Sarah-Ann, Audrey, Samantha, Nicole, and Joshua).
Berndette was born on March 13, 1940 to the late Bernard and Mildred "Mil" MacDonald of New Glasgow, Nova Scotia. She is survived by her siblings William "Bill" MacDonald (Leslie Milner) Pictou; John A. MacDonald, New Glasgow; Karen MacDonald (Gerry) Sutton Que; Elizabeth "Bish" (Al) McGrath, Trenton; and Rachel (Alex) Mahar, MacLellans Brook. She was predeceased by an infant sister, Mary Mildred
Mom met dad in Antigonish when she was working at the CN Telegraph Office and in that moment dad knew that he wanted to marry her. In her younger years, she enjoyed skating and walking with friends. During their marriage, mom and dad raised five girls who fondly remember the trips to PEI and other family events. During their retirement, mom and dad spent time visiting their daughters in Ontario, Alberta, and British Columbia. Mom enjoyed playing Yahtzee with dad in the evenings and watching the Blue Jays and Raptors games on TV. She also enjoyed watching hockey games each season. Mom loved spending time going for drives with dad. She also looked forward to attending local sporting events at St. F.X.
Berndette will always be remembered as a very loving wife and mother as well as a beloved friend. People felt a warmness whenever they were around her because of her kind heart, warm smile and quick humour. Her ability to listen attentively to others, make everyone who came to visit her feel right at home and her acceptance of everyone made Berndette the wonderful and selfless person that she was. Her fun loving spirit was as much contagious as her laugh. Berndette had a great ability to make people laugh through her many facial expressions and the twinkle in her eyes. We will always be the luckiest family because of her place within it. Thank you so much mom for being our mom. We love you always.
There will be no public visitation, service or reception.
In lieu of flowers, donations can be made to the Aberdeen Palliative Care, New Glasgow.
On line condolences: www.MacIsaac.ca