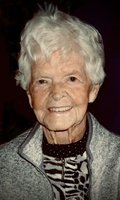 Rita Chisholm
Funeral Video https://youtu.be/Zpj7jjq3rCQ
Cemetery Service https://youtu.be/wX51D2U_Aa4
It is with heavy hearts that we announce the passing of Mom, Rita Chisholm, of Lower South River, on Saturday, September 19, 2020 in St. Martha's Regional Hospital Palliative Care Unit. Born on December 5, 1921 to Angus and Margaret (MacNeil) MacGillivray she was the last surviving member of her immediate family.
Rita worked at the former St. Andrews Co-op for 22 years. She lived in Lower South River until 1995 when she moved to her apartment in Greenwold Manor where she resided for 24 years, making many friends. She was a member of St. Andrews CWL for over 60 years as well as a volunteer for many organizations in her lifetime. Mom lived a simple life based on faith, family and friendship. She took great joy in her children, grandchildren and great-grandchildren. Spending time chatting with them was essential to her happiness. Mom loved her daily walks, a lively fiddle tune, a good game of 45's and a good laugh as well as knitting and sitting outside. We are blessed to have had her in our lives for so long. Mom will be forever in our hearts.
She is survived by her five children, Archie, Kelvin (Carole), Marguerite (Bill) Benoit, Carl (Lily), and Gertie McCarron, sixteen grandchildren, fifteen great-grandchildren and numerous nieces and nephews. Besides her parents she was predeceased by husband Valentine, infant daughter Gertrude Ann, brothers Allie and Albert MacGillivray and sisters Sadie (Joe) Campbell, Margaret (Colin) MacNeil, Gertie MacGillivray and Helen (Bernie) Fraiser; daughter-in-law Wanda Chisholm, son-in-law Greg McCarron, granddaughter Giselle Benoit and great granddaughter Mya June Hayne.
Our family would like to offer a heartfelt thank you to all the wonderful staff who cared for our Mom, especially Dr. Michelle Murphy, her Family Doctor for many years, and the kind and compassionate Drs., Nurses, CCA's in ER, OBS, PCU and Palliative Care Units. Your care and kindness to our Mom during these past two months were very much appreciated by us ALL! Thank You !!
There will be no visitation. Funeral Mass will be held on Tuesday, September 22, 2020 at 11 am in St. Andrews Church, St. Andrews, Rev. Andrew Gillies presiding. COVID-19 protocols will be in place and as a result there will be limited seating at the church. Burial in the parish cemetery. No flowers as per mom's request. Condolences and donations to L'Arche Antigonish, St. Andrews Cemetery Fund or St. Andrews CWL may be made online by visiting www.MacIsaacs.ca. A video link to the Funeral Mass will be available on this page Tuesday afternoon.