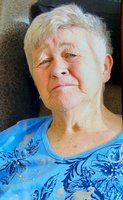 Marguerite Anastasia "Sissy" MacInnis
Marguerite Anastasia (Sissy) MacInnis, 79, of Cape George Point, passed away Tuesday, January 26, 2021 in St. Martha's Regional Hospital, Antigonish. Born in Antigonish she was a daughter of the late Hugh Joseph and Elizabeth (MacEachern) MacInnis.
Sissy was a lifelong resident of Cape George Point. She was known to the residents of Highway 337 as a mail deliverer. She was an avid Blue Jays and Leafs fan.
She is survived by brother Gus (Sharon), Cape George Point; Hughena, Milford Haven; several nieces and nephews. She was predeceased by sisters Gertrude Griffin, Jean Cameron, Barbara MacEachern and brother Jackie.
Due to COVID-19 restrictions there will be no visitation. There will be a private Funeral Mass in Holy Rosary Church, Ballantyne's Cove, Rev. Andrew Boyd presiding. Burial in the parish cemetery.
The family would like to thank the doctors and nursing staff at St. Martha's Hospital and Milford Haven Home, Guysborough. Donations in memory may be made to the Antigonish Town and County Palliative Care Society. Online condolences may be made by visiting www.MacIsaacs.ca