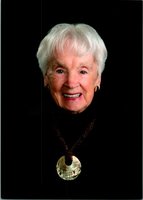 Vera Constance Stewart
Link to Funeral Service Video https://youtu.be/PEd_HdZYKzs
Stewart, Vera, aged 91 passed away peacefully in the RK MacDonald Nursing Home on Wednesday, June 2. Born in Antigonish she was the daughter of George Barter and Mabel Turnbull. Vera and her husband Dwight lived on the family homestead in Lochaber for almost 60 years. Vera created a loving home for Aunt Mary, Mother- in-law-Sadie, and sister-in-law Tiny with CP, in the early years.
Vera was a kind and loving caregiver, Dwight was a natural entertainer and storyteller but Vera created the atmosphere. Vera worked hard up on that hill but she taught each of her six children the value of fun.
Every new grand baby, holiday or birthday was an occasion for Gramma to make you feel special, celebrated and loved. In winter she was on the lake ice-skating as soon as it was safe, and even into her nineties, she enjoyed many afternoons at the lakeshore watching the swimmers. Gramma's lap was a warm dry spot for hugs. You always felt privileged to go 'up the hill' for fresh buns, those special fudge squares, or a piece of pie.
Dwight and Vera loved and worked hard for their Church, and the community, always ready to lend a helping hand or two, instilling these values in their children, and grand children. Vera was a long time elder and member of the Lochaber United Church choir, UCW, a CGIT leader and Sunday school teacher.
Vera is survived by her children Joanne (Lawrence) MacKenzie, Dwight Jr, Patricia (Ian) MacDonald, St. Albert, Alta.; Ralph (Karen), Sandy (Michelle), and Brenda (Jack) Duplisea, Halifax. She was predeceased by her parents, husband, and siblings; Ruth DeYoung, George, Walter, Stanley, Allister, John, Christine Pike, William, and Margaret Vinall. She was a proud, generous, loving Gramma to Jonathan (Shelley), Jay (Cheryl), Candace (Derek), Kaylyn (CJ), Adriane (Matthew), Nicole (Jofrey), Cameron, Jessie (Darren), Matthew, Julia, Kyle, Emily, David (Maddy), Marybeth and Shaelynn. Vera was blessed with 7 great grandchildren William, Maria, Ula, Andrew, Evan, Maeve and Rylen. Vera also leaves behind her sister Muriel Ross, sister-in-law Betty Barter, and each one of her cherished nieces and nephews. She was always up to date on their lives and accomplishments. Family was her treasure and her joy.
Due to Covid-19 restrictions a family Celebration of Life will be held at a later date. Memorial donations may be made to Lochaber UC, Lochaber Community Center, Parkinson's Association, RK MacDonald Nursing Home or Charity of choice. Arrangements have been entrusted to MacIsaac Funeral Home.