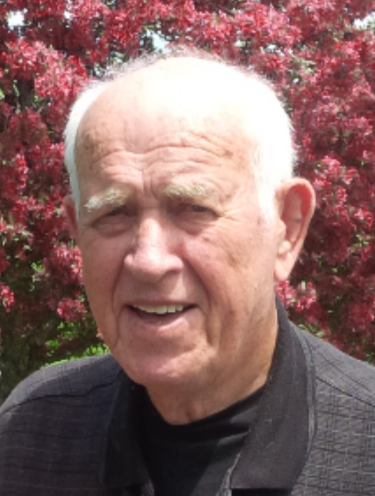 Forbes MacGillivray
Video Link to Funeral Service https://youtu.be/6t1mmxqezQY
Forbes MacGillivray, age 93 of Antigonish passed away on June 3, 2021 at the RK MacDonald Nursing Home. Born in Lakevale, Antigonish County, he was the son of the late John J and Isabelle (Forbes) MacGillivray.
Forbes first started work at the construction of the Canso Causeway where he dumped the first load of material to get the causeway underway. Forbes spent most of his working years in the oil business where he worked along his devoted and great friend Kenny Hudson for many years. Forbes started MacGillivray Fuels which he later passed onto his sons and now grandsons.
In his retirement Dad liked doing small wood working projects in his wood working shop and loved to put in a big garden and share it with family along with his big rhubarb patch. He also enjoyed playing cards with his extended family and friends. Papa was happiest when family was around and he was able to constantly tease the grandchildren and the great grandchildren. Forbes was a great husband, Father, Papa, Papa2 and a devoted Catholic who practiced his faith daily and was a life time member of the Knights of Columbus. The big guy was fun to be around and will be sorely missed.
He is survived by his loving wife of 66 years Christina (Boyd), daughters Joan and Judy, sons Danny (Brenda) and Reg (Anne) as well as 5 grandchildren, Nathan (Carolyn), Michael (Rosie), Sarah (Justin), Brian and Mark and five great grandchildren, Anneke, Forbes, Luke, Jack, Charlotte and sister Helen Toth (Joseph) plus many nieces and nephews. Forbes was predecessed by sibling Ann Roache (Louis), Sadie Kennedy(Ronald), Johns MacGillivray, Rod MacGillivray (Mary C.), Colin MacGillivray, Kathleen MacDonald (Donnie), Florence Grant (Angus), Mary MacGillivray and great granddaughter Nora.

The Family would like to thank the staff at the RK MacDonald Nursing Home for their great compassion and care of Dad along with his doctor of many years of caring, Dr. Gallant.
Private family funeral will take place with burial in St. Joseph's Cemetery. Memorial donations may be made to the RK MacDonald Nursing Home Foundation or the Antigonish Right to Life. Online condolences may be made by visiting www.MacIsaacs.ca