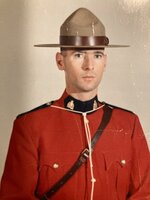 Robert MacDonald
John "Robert" MacDonald passed away as a result of cancer in the Palliative Care Unit at St. Martha's Regional Hospital in Antigonish on December 6, 2021 at the age of 83.
Born in Antigonish, he was the youngest son of the late Joe and Gertrude (Dunn) MacDonald of Brierly Brook Road.
Robert worked several jobs in his 20s which included truck driving, managing a gas station, working in mines and sailing freighters on the Great Lakes. At age 28, he joined the RCMP where his 23 year policing career included uniform duties within several communities in Newfoundland and seven years working with Security Service in Ottawa. Upon retirement from the RCMP, he managed the Antigonish Legion for a number of years. Not one to be idle, he worked several more years with Student Taxi before settling into true retirement at age 77. Robert was an avid reader, card player, trout fisherman and champion of Trivial Pursuit.
He is survived by his wife Elaine (Moriarty); his children Jim (Darlene) of Olds, AB and Dave (Angela) of Sherbrooke, NS; his grandchildren Phillip, Lauren and Simon; his sister Ellen Roy; and brother Francis (Evelyn) MacDonald both of Antigonish. He was predeceased by siblings Edwin, Joseph, Margaret, Tony and Betty. Cremation has taken place. By request no services will be held.