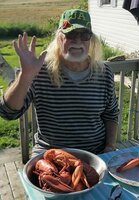 Eduard Rebane
EDUARD REBANE a.k.a PIRATE
January 27, 1950 – April 17, 2022
PIRATE
According to Oxford scholars
- a person who attacks and robs ships at sea
- uses or reproduces (another's work) for profit without permission, usually in contravention of patent or copyright.
- robs or plunders (a ship)
According to people who knew him you could also add "a person who loves" – he loved music, he loved ganja, he loved cigarettes (too much) and he loved food (but not green things)!! He LOVED Jamaica, he REALLY LOVED women but he MOSTLY LOVED rum!!!
He was of Estonian descent – his parents immigrated to Canada via Germany as released prisoners of war and settled in the Kitchener, Ontario area where he and his sister were born. He was a rebel and shunned the strict Estonian customs much to the chagrin of his father but I sense to a wee bit of delight to his mother. I can't help but think she would have loved to do the same but had to follow her husbands orders and I think this fuelled his sails.
For someone who appeared so "worldly" to many, he was quite "naive" in reality – like a little boy when times got tough. A deer in the headlights.
He will be missed in one way or another by each person whose path he crossed in their own way, on their own terms. He has long time friends and new friends, some long time enemies and some ones as well – I'm sure we all do. I know I'm not going to miss him coughing up goobers!!!!
He is survived by his sister Ene, Kitchener, Ontario (infirmed) and a daughter last known to be in New Brunswick – neither of which he has spoken to in decades. He is also survived by the cast of characters here in my house – his beloved "Mighty Mouse", Tyson Barnes, (otherwise known as my "Pet Newfie") who called him "grandfather"; "Slickz", my son Darris Baldwin (otherwise known as "what's your name again"); and me, Weezie a.k.a. Gangster.
When you find the Ark Mr Ed – save me the unicorn.