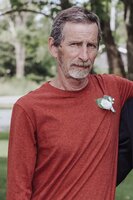 Robert Gregory Purcell
After a brief illness, Robert Gregory Purcell, born March 5, 1954 passed away peacefully on July 26, 2022 at his longtime residence in Glen Air Estates, Lower South River. Despite his recent health issues he stayed courageous and maintained his strength of character. He continued his customary ventures and social interactions. He also valued more intimate and longer visits with more immediate and some extended family members.
Robert was fastidious in his care of home and self. This characteristic rolled into his work life as well. In his years at the Eastern Dairy he dedicated himself to excellence including the creation of various new ice cream flavours in the 1970s and beyond. As a talented Master painter, Robert beautified the homes of many. Quite often jobs were the result of recommendations from satisfied customers. He coloured our world in many ways.
Robert very much treasured his time spent golfing in New Glasgow with his friends Steven O'Leary, Gordon Gillis and Ronnie MacEachern.
A lifelong love of NHL hockey kept him cheering for the Chicago Blackhawks. This passion was shared with his sons Matthew and Nathan as well as his Dad. Also, he loved to go fishing with his favourite spots being Loch Katrine and Brierly Brook.
Although often a man of few words, they were often quite to the point. He had a definite wit. He also kept abreast of local news and beyond.
As a loving husband, Father, Father-in-law, Grandfather, brother, brother-in-law, uncle, cousin, etc., Robert will live on in the memories of many.
Robert is survived by his wife Lorraine and two sons: Matthew Purcell (BC) and Nathan Purcell (Lindsay) of Pomquet; four Grandchildren: Alexandra, Nolan, Rowan, and Addison. As the sixth child of Ralph and Dorothea Purcell, he leaves the following siblings and their families to mourn his loss: Edward Purcell (Chris) Antigonish; Elnora MacNeil (Roy) Dartmouth; Paula Purcell, Ottawa; Shawn Purcell, Calgary; Thomas Purcell, Antigonish and Terry Neary (Robert) of Fairmont.
In addition to his parents, Robert was predeceased by brothers: Ralph G. Purcell (Chris) Dartmouth; C. Kenneth Purcell; and his sweet sister Eileen Purcell.
Robert will be missed by many members of Lorraine's family with whom he had a great rapport.
A family graveside service will be held at 11 am on Tuesday, August 2, 2022 in St. Ninian Cemetery.
Memorial donations in Robert's memory may be made to St. Martha's Palliative Care Unit.