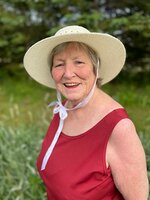 Ann Marie Benoit-Landry
Ann Marie Benoit-Landry formerly of North Grant, passed away peacefully January 3, 2023 at home surrounded by her family. Born September 6th 1946 in Antigonish she was a daughter of the late Irene and Joseph Benoit.
Ann enjoyed the simple things in life, like baking her famous brownies for company and homemade bread. She loved crafts, bingo, Skip-bo, time spent with her children and grandchildren watching movies (black and white), board games, puzzles, a good cheese burger, road trips and bluegrass festivals. Ann had a special gift for making greeting cards and all her children always had homemade costumes for Halloween.
Ann spent many years in Toronto and worked at various jobs but being a homemaker and raising her children was her greatest achievement. Later in life she attended ACALA and graduated with her upgrading which made her very proud. She had a great faith in Christ and passed her love and faith on to her children and family.
She loved playing baseball with her grandchildren. One of her best memories was her bus trip to Nashville to visit the Grand Ole Opry. She had a special love for music, singing, reading and writing poetry.
Surviving are her children Francis (Kathy) Landry, Toronto; Brenda (Ernie) Bailey, Afton; Victor (Alicia) Landry, Calgary; Chantale DeCoste, Havre Boucher; Trevor DeCoste, Antigonish; Jonathan (Twyla), Antigonish; Grandchildren: Ryan, Sarah, Clifford, Shalynn (Ryan), Marisa, Dallas, Kiara, Peyton, Dryden and special great grandchildren Seth, Parker, Alexis, Braxton and Brayden; Sisters; Lorena (Ray) Payne; Karen (Paul) Carrigan; Irene (Rick) Walters, Halifax; brothers Victor (Joanne) Benoit; Carl Benoit; and Steven Carrigan Ontario; Godchild Jim Finnigan.
Besides her parents she was predeceased by brother Paul, sister Beatrice and special grandson Dexter.
At this time the family would like to thank the Oncology Department at St Martha's Regional Hospital, Palliative care, Dr. Cooper, Dr. Saliva, Dr. Rice, Shelly Robertson, VON Antigonish and especially to her Granddaughter Shalynn for all her love, devotion and care for grammie.
Cremation has taken place. No visitation as per Ann's request. Celebration of life to be held at Tracadie and District Fire Hall, 995 Hwy 16, Monastery, Saturday January 7, 2023 from 1-4pm. Pastor Danny Gibson officiating. Burial at a later date.
In lieu of flowers we ask for memorial Donations to Cathy's Place, St Martha's Hospital.