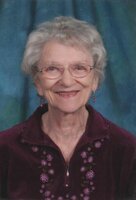 Helene Cecile McVicar
Helene Cecile McVicar, of Addington Forks, passed away peacefully on Friday, February 10, 2023 in the R.K. MacDonald Nursing Home, Antigonish.
She was born on June 20, 1925 to James and Jeanne (MacLean) deCoste, Mabou. Helene worked in Sydney for a number of years as a bookkeeper and stenographer. She then worked at the Havre Boucher Fish Plant as a bookkeeper.
She is survived by her son David, Addington Forks; son-in-law William, Eastern Passage; grandchildren Kris and Alex McAuley; two sisters, Betty Bennett, Antigonish; Catherine Kowalski, MacPherson Mills, and several nieces and nephews. Besides her parents she is predeceased by her husband, Roderick; daughter Carol McAulay; siblings Marie MacDonald, Christine Dominique, Francis deCoste, Patrick deCoste, Anne Angelescu and Alexandre deCoste.
Helene loved to play the piano and violin and was a member of the Pictou County Fiddlers for many years. She also enjoyed playing at many events in the Antigonish area.
Visitation will be held on Thursday, February 16, 2023 from 4:00-6:00 pm in MacIsaac Funeral Home, 61 Pleasant St. Funeral mass 11:00 am Friday in St. Ninian Cathedral, Rev. Danny MacLennan presiding. Burial in the parish cemetery at a later date. Memorial donations may be made to the Alzheimer's Society.