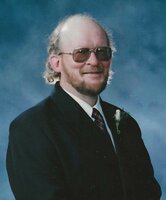 John William "Skip" Thistle
John William "Skip" Thistle, age 72, departed this life on Friday, April 14, 2023 in Saint Martha's Regional Hospital, Antigonish, with family by his side. He was born on August 3, 1950, in New Waterford, Nova Scotia, to John William "Johnny" Thistle and Florence Mae Thistle.

Skip grew up as a proud Cape Bretoner, graduating from New Waterford Central High School. In his earlier years, Skip took great pride working for Texaco Corp as a Long-Haul truck driver out of Halifax. Then, in the later part of his driving career, Skip drove a school bus along the Eastern Shore of Nova Scotia. To no one's surprise, his reputation as the strictest driver in the fleet went on for years!

Skip enjoyed playing pool and darts at the legion for many years, as well as listening to classic country music whenever he had the chance. Anyone who knew Skip knows that he loved playing games. Whether it was an all-nighter of Tarbish with friends in Whitney Pier, a day long turkey dart shoot at the legion, or just some washer toss with friends and family in the yard, Skip was game for it! And if there was one thing he was more proud of passing on to his sons other than his keen wit and sense of humor, it was his high level of competitiveness.
In his retirement, Skip enjoyed spending time with his family, making up "To Do" lists for work around his Barra Head property and his garage, and evenings watching his favorite shows and movies. He especially enjoyed walking his property and looking over the Bras d'Or Lake while taking in all the wildlife that surrounded him.

Skip is survived by two sons, Christopher Jason Thistle (Tricia) of Tupelo, Mississippi, and Gregory Scott Thistle (Heather) of Hubley, Nova Scotia; six grandchildren, Connor and Ryan (Mississippi) and Taylor Knoll, Maggie, Sawyer, and Ruby (Nova Scotia); and siblings Elizabeth Hutchison, Jessie Langille, Lez Lee Thompson, Glenda Wright, Elaine Digweed, and Timothy. He was also survived by another sister, Raylene, but sadly she passed away four days after him. He is preceded in death by his parents, John and Florence; one grandchild, Leah; and siblings Marilyn Geddes, Kimberley, Anne Hylands, Frank, and Stephen.

A celebration of life for Skip will be held on Saturday, May 20, 2023, from 12:00 pm. to 3:00 pm in the Centennial Legion, Dartmouth, Nova Scotia. There will be no formal funeral service. His cremated remains will be spread over the Bras d'Or Lakes in Cape Breton per his final wishes. Rather than flowers/gifts, the family asks that donations in honor of Skip be made to the Centennial Legion. www.MacIsaacs.ca