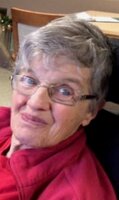 Hughena MacInnis
Catherine "Hughena" MacInnis, 76, of Cape George Point, passed away Tuesday, April 25, 2023 in the Milford Haven Nursing Home, Guysborough. Born in Antigonish she was a daughter of the late Hugh Joseph and Elizabeth (MacEachern) MacInnis.
Hughena was a lifelong resident of Cape George Point. She cared for children in the community, many of which were her own nieces and nephews, and loved being around children. She was an avid walker often seen walking the roads of "The Point". She also enjoyed gardening in her younger days.
She is survived by brother Gus (Sharon), Cape George Point; several nieces and nephews. She was predeceased by sisters Gertrude Griffin, Jean Cameron, Barbara MacEachern, Marguerite (Sissy) and brother Jackie.
Visitation will be held Tuesday, May 2nd from 12:00-1:00 pm in MacIsaac Funeral Home, 61 Pleasant Street prior to the Funeral Mass which will be held at 2:00 pm in Holy Rosary Church, Ballantyne's Cove, Rev. Andrew Boyd presiding. Burial in the parish cemetery.
The family would like to thank the staff of Milford Haven Home, Guysborough for the care and comfort she received. Donations in memory may be made to the Milford Haven Nursing Home, Guysborough.