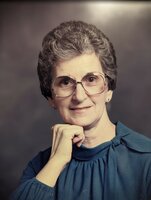 Marie Dorothy "Dot" Melanson
It is with sadness we announce the passing of our beloved mother, Marie Dorothy (Dot) Melanson, 97, formerly of Halifax, in the Highcrest Home for Special Care, Sherbrooke on Monday, May 1, 2023.
Born in West Arichat she was a daughter of the late William and Beatrice (Babin) Meunier.
Mom's main focus in lIfe was her family. She cared for each of us in her own special way. She was a talented knitter and seamstress. She, along with our dad, loved to prepare delicious meals together to be enjoyed by those they loved, She was a member of Our Lady of Perpetual Help Parish CWL, Rockingham, for many years.
She is survived by her daughter, Dianne (late Neil) Kell, Antigonish; sons Jack (Carol Anne), Halifax; Anthony (Margaret), Halifax. She loved, and was loved by, her many grandchildren and great-grandchildren.
She was predeceased by her husband Allan (February 1989]; daughter Catherine (Sue) Thornton; son-in-law Ron Thornton; granddaughter Krista Thornton-Harvie.
Cremation has taken place. No visitation. Funeral Mass 2:00 pm Friday, May 5th in St. Ninian Cathedral, Antigonish, Reverend Danny MacLennan presiding. Burial will take place at a later date in the Gates of Heaven Cemetery, Lower Sackville.
The family would like to extend special thanks to the staff of Highcrest Sherbrooke for their care and kindness towards Mom.
Love One Another