61 Pleasant St | Antigonish, NS B2G 1W6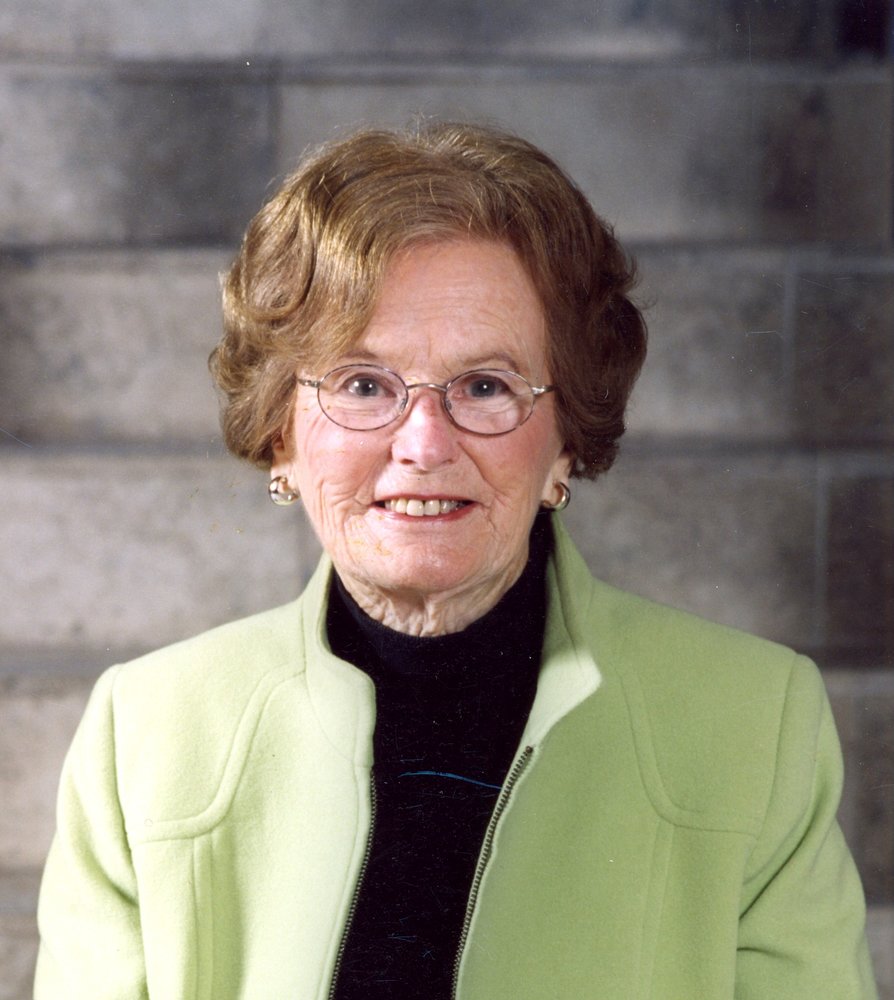 Obituary of Josephine Theresa Fraser
Josie Fraser, longtime resident of Antigonish, passed away on May 10, 2018 at the age of 92
years.

A native of Arisaig, Antigonish County, Josie graduated from Mount St. Bernard College
(affiliated with St. FX) in 1944. She was a strong advocate for higher education and took great
pride in all her children graduating from St. FX.

She was a dedicated wife and mother and an active member of, and volunteer at St. Ninian's
Parish. She took great pleasure in the arts, including listening to a wide variety of music genres,
attending live or watching concerts and plays on DVD, and she was an avid reader and great
supporter of the local library.

Josie was a right arm to her husband Foch in their business, and became principal manager in
the early 1970's following his illnesses. She especially enjoyed her time at the family summer
cottage in Arisaig where many special gatherings were had.

Surviving are: her sister Mary Barry (Donald), Antigonish; sons Foch, London Ontario: Sandy
(Helen), Halifax; Greg (Linda), Orlando Florida, Paul (Bonnie), New Glasgow; daughter
Therese, Antigonish; 11 grandchildren and nine great-grandchildren.

She was pre-deceased by her parents Alexander J. and Mamie (Gillis) MacDonald, her
husband, Foch who died in 1986, and by sisters Nan MacIsaac, Bea Gillis, Rita Flemming,
Eileen Mirabelli, brother Donald J. MacDonald (Margie) and infant brother John Macdonald.
Visitation 2:00 - 4:00 and 7:00 - 9:00 PM Monday May 14th at MacIsaac Funeral Home, 61 Pleasant St, Antigonish with Funeral Services at St. Ninian's Cathedral Antigonish on Tuesday May 15 at 11am. Burial in the Parish Cemetery.

Donations in memory to the Arthritis Society Nova Scotia or the charity of your choice.
---
Memories of Grammy

by Craig Fraser


When I was a young snot-nosed kid I was afraid of Grammy (I have never called her by any other name, even at 40). She would chase me down with a handful of tissue and d.comforce me to blow. I was afraid to rub the carpet the wrong way and leave trail if the strands faced the opposite way. I was worried about knocking over the Royal Doulton figurines as Blair and I spun around in the big yellow chair. I learned to keep my grimy hands off the white walls while running downstairs to the 'playroom' where we belonged at that age. I remember sitting in the tub with my brother and having my hair rubbed so hard I thought it would fall out.


As I grew older I realized how silly these old memories were and I came to appreciate her orderliness in a new way. Everything Grammy did was out of love. She was the pillar of the family. It never seem to matter what chaos our family was going through, she was the unwavering stability that we could lean on in times of need. She was constant, kind, and pure. Her home was like a sanctuary for me. As a child you felt the love the moment you opened the door and you'd hear a rhythmic hello in the distance and then Grammy coming around the corner with a controlled smile and twinkle in her eyes. She dressed like a first lady and I've never seen a hair out of alignment. I loved dressing up in my best clothes and visiting for a holiday feast. I remember the fun we'd have huddled around the kids table for dinner, and the incredible apple pie with ice cream to follow. She remembered it was my favourite but at some point she mixed it up with apple crisp but I didn't have the heart to tell her the difference - it was all delicious! As pre-teens, we progressed to the 'big' table and enjoyed an adult 'spread' with fancy candles and silverware - the care put into every detail made it feel extra special for us. She made a point of keeping all the classic board games, dinkies, building blocks and her own kids toys. When we were given the go-ahead to escape to the basement we'd run to the cold, mothball-scented storage room to claim our prizes for the evening. We'd set up elaborate constructions that would send cars whizzing past Grampy's brown-panted legs as he'd stare forward from the chair with the carved wood arm rests and the chrome frame.


Grammy taught us to have pride in the family, to be tactful, to rise above idle chatter and act with dignity. She was a focal point and brought the whole family together. She encouraged unity and peace. She had an incredible strength of character and remained graceful and elegant right to the end. I rarely heard her complain or say anything inappropriate. Even years after my parents separation she'd would ask about my mother and send her regards. She wasn't afraid to tell you what you needed to hear, yet she always knew what to say to help you calm down in a crisis. She recognized effort and showed unconditional love. She was very gentle and comforting and made all of us feel special for our achievements at any age. She followed all my hockey milestones, took a genuine interest in all that I did, and shared in my pride whether it be for an art show or graduation. Even before I can remember she was always there, looking out for us. I look back at old photos and see us clothed in brand name outfits knowing full well we couldn't afford that at the time. I hear stories of her hosting us in the big old house. I'm sure there is much more that she has done for us that I am not even aware of.


Throughout high-school and University there have been many times when I needed a quiet, peaceful space to study and Grammy always took me in without question. I remember studying at the kitchen table, my toes near the heater, Christmas classics from Paul's mix in the background, and Grammy gently going about her tasks. I have a lot to be grateful for. She set me up in my own room at times, fed me, and even did some laundry. Sometimes I'd over study and fall asleep. I thought I'd look lazy, but she'd come to check on me, turn off the light and gently turn around, knowing that a rest was probably for the best. I learned what serenity could be like in a home. I can still hear her gentle voice calling my name in the mornings to get me up for breakfast. She would roll the beginning and end with an upward inflection almost like a question and a slight vibrato. Sometimes I'd be too nervous for an upcoming test to eat much, but somehow she'd still find a way to stuff it in me, then send me off with a Sobey's bag packed with lunch for three! Even if I dropped in for a quick visit she'd find a way to turn a meatloaf slice and some veggies into a meal within a few minutes. I'm told that when I was a child she discovered that I liked cheese for breakfast and she'd let me eat nearly half a block of Cracker Barrel. Her fresh biscuits with butter and real jam are the best I've ever had, and her cinnamon rolls put those soggy chain stores varieties to shame. In the summers I'd see Grammy for mowing and in the winter's for shoveling. She'd slip me a few dollars and set me up with ice-cream or a hot drink afterwards. I'm mentioning a lot of desserts, but Grammy ate exceptionally healthy for many years, and after spending so much time with her I adopted dietary habits that I still keep up today.


As with most of us, much of my time with Grammy was spent at the cottage during the summers. I can picture her standing greeting us in the doorway as we drive up the grassy path. She's wearing loose pants with her ankles showing, sandals, and a short-sleeved blouse. I remember all the BBQ's and big family gatherings at the original cottage and Sandy & Helen's. I remember my parents leaving Michelle and I with Grammy and Therese for a few days at the cottage - Arisaig was a luxury paradise at that age! Grammy would always keep us fueled with a hearty egg, meat, toast, and puffed rice cereal breakfast, then stuff us with sandwiches and pink lemonade in-between beach adventures. Once at the cottage, as an adult, I brought out a modern board-game to play with the entire extended family. I wasn't sure how it would go over with a big crowd with a diverse age ranges and game experience. One of the categories of the game was grammar and spelling. Grammy surprised me by stepping up to the plate and dominated answer after answer! I was amazed at how intelligent and witty she has been well into her old age. She was so proper most of the time, that in the odd time she would make a clever remark under her breath it was hilarious and her unusual inward gasping laugh really made me crack up.


She had a love for music and I often saw her clapping along to an upbeat song, Danny Boy, or humming along in the kitchen. At Greg and Lynda's vow renewal I requested a dance, and she took me up on it without question. She could really move for her age! Her piano was a source of refuge for us all. There didn't need to be a special occasion to enjoy spending time with Grammy. She was a good conversationalist. I valued the simple things like watching an Andrea Bocelli concert or some interesting documentary with her on TV and asking her perspective on the past and life. She tell me stories of simple times like when she would gather around with all of her friends, play piano and take turns cranking the ice-cream barrel.


Grammy never missed a birthday call and sent me a card nearly every year. Her penmanship was beautiful and she kept up with hand-written cards even when the arthritis made it very difficult. When I was planning to move across the country to BC, I knew it would be a long-term move. I went to visit her and I intended to thank her for all that she has done for me and my family over the years. The moment I opened my mouth and she sensed that it was going to get sentimental she shut it down quickly. She was always stoic and I think at her age she didn't want to hear anything that sounded like a final goodbye.


I feel so thankful that I had the opportunity to see Grammy again last summer and introduce her to my fiance. Grammy was as gracious, accepting, witty and funny as she had always been, and Shi-Yuan really enjoyed our short time together. At one point in the conversation I was telling everyone about how that spinning upholstered chair was our favourite seat in the house as kids. With a straight face, and quick as ever, Grammy joked, "that chair's not going anywhere, I'm not gone yet!" and everyone burst out laughing. Because it had been so long since I last saw her, I asked if it would be ok to give her a big hug. Scottish stoic or not, I wasn't going to accept a no for an answer, but I didn't have to. She let out a big rolling 'of course!' Her eyes sparkled and I held her precious body for the last time. I loved her much more than she'd ever let me say .




.
Visitation
2:00 pm - 4:00 pm
Monday, May 14, 2018
MacIsaac Funeral Home
61 Pleasant St
Antigonish, Nova Scotia, Canada
(902) 863-3414
Visitation
7:00 pm - 9:00 pm
Monday, May 14, 2018
MacIsaac Funeral Home
61 Pleasant St
Antigonish, Nova Scotia, Canada
(902) 863-3414
Funeral Mass
11:00 am
Tuesday, May 15, 2018
St. Ninian's Cathedral
121 St. Ninian's Street
Antigonish, Nova Scotia, Canada