61 Pleasant St | Antigonish, NS B2G 1W6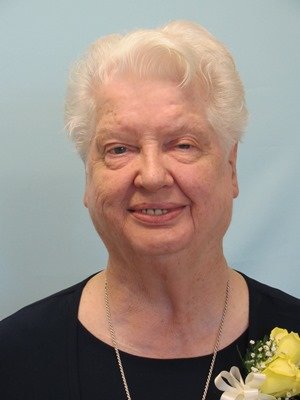 Obituary of Sister Maria Pius Keough
Keough, Sister Maria Pius, 83, a Sister of St. Martha of Antigonish, died at Strait Richmond Hospital, Evanston, NS, on, Monday, May 14, 2018 in the 65th year of her religious life.
Born in Whitney Pier, Cape Breton, NS, and baptized Mary Hannah, she was the daughter of the late Andrew Joseph and Hannah Mary (Ryan) Keough.
Sister Maria Pius entered the Sisters of St. Martha on August 15, 1951, pronounced her first vows on August 15, 1953, and pronounced her final vows on August 15, 1956. In 1955 Sister Maria Pius graduated from the provincial Normal College in Truro with her Teaching License, First Class. Sister Maria Pius ministered in education in Cape Breton in Margaree and Alder Point.
For many years Sister Maria Pius lived with mental illness, and the stigma that goes with it. Her suffering was lived out in the context of her deep and unwavering faith in God. Her life of prayer was intentional, and constant, the fruits of which were evident in the many ways she reached out to those who also lived with mental illness. Her unique sense of humour, and depth of wisdom was a source of support to many. She lived her life with courage, faith, and determination.
For the last few years Sister Maria Pius lived at the Port Hawkesbury Nursing Home, where she received excellent care in a compassionate environment. The Sisters of St. Martha are grateful to all who provided care for Sister Maria Pius over these years. Although living away from her Martha Community, she was very connected to her Martha Sisters, and they to her, through regular visits. This meant a lot to Sister Maria Pius.
Sister Maria Pius was one of ten children. She was predeceased by sisters: Harriet, and Caroline, and brothers: Ethelbert, Pius, Patrick, and Joseph. She is survived by her sister Lenora, Glace Bay, Cape Breton, and brothers Daniel, Sydney, Cape Breton, and Leo, Mississauga, Ontario. She is also survived by several nieces and nephews.
The remains will be resting at Martha Place, Parkland Antigonish, beginning on Wednesday May 16, 2018 at 11:15 a.m. A Celebration of Vigil will be held on the same evening at 7:00 p.m. Liturgy of Christian Burial will take place on Thursday, May 17, 2018 at 1:30 p.m. in St. Martha Chapel at Martha Place.
Visitation
11:15 am
Wednesday, May 16, 2018
Martha Place
Parkland Antigonish, 153 Highway 337
Antigonish, Nova Scotia, Canada
Celebration of Vigil
7:00 pm
Wednesday, May 16, 2018
Martha Place
Parkland Antigonish, 153 Highway 337
Antigonish, Nova Scotia, Canada
Celebration of Vigil
Liturgy of Christian Burial
1:30 pm
Thursday, May 17, 2018
Martha Place
St Martha Chapel, 153 Highway 337
Antigonish, Nova Scotia, Canada