61 Pleasant St | Antigonish, NS B2G 1W6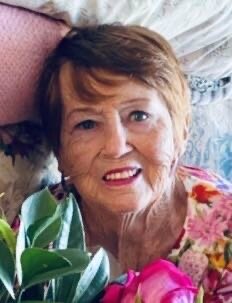 Obituary of Isabel MacDonald
Link to Funeral Video https://youtu.be/TubpU92zK60
It is with heavy hearts that we announce the passing of our beloved mother, Catherine Isabel "Ippy" MacDonald, who died peacefully on July 25th in the John MacLellan Palliative Care Unit of St. Martha's Regional Hospital in Antigonish, Nova Scotia.
Isabel was born in Malignant Cove, Nova Scotia to Andrew and Mary Agnes (MacInnis) Chisholm on September 18, 1937.
In addition to her parents, Isabel was predeceased by her first husband - the love of her life and the father of her children - Daniel Kenny, her son Kevin, her infant son John Derek, her second husband Christopher MacDonald, her siblings Charlie, Theresa (Ambrose Chisholm), RJ, Gordon (Bernadette), Jackie (Marguerite), Betty (Hughie Chisholm) and Bernadette (Cyril MacGillivray). She was the last surviving member of her immediate family.
Left to carry on her legacy are her daughter Joanne Kenny, Antigonish, Joanne's three children, Daniel Eastwood, Antigonish, Emma and Maggie Eastwood, Alberta, her son Gary Kenny (Rhonda McLean), Halifax, Gary's three children, Kayla Kenny (Sander), British Columbia, Dylan Kenny (Beth), London, England and Justin Jalsevac, Ontario, her daughter Lorraine Kenny (Kelly Thompson), Antigonish, Lorraine's three children, Lisa Chisholm (Jacob Abaunza) their children Gabriella, Mateo, Evin, Isabel and Noah Abaunza; Ryan Chisholm (Stephanie) their children Bryleigh and Aubreigh; and Caley Chisholm (John Hugh MacLean), all of Antigonish. Many in-laws and dozens of nieces and nephews, many of whom considered "Aunt Ippy" their second mom.
Mom worked as a cook for much of her life. Her culinary skills contributed to the establishment of a reputation for good food with a number of local restaurants. She cooked with love and care, and would only serve something she would eat herself. We can't be sure what she loved more, the joy of cooking or the feeling she got knowing people were being fed good food. Most of all, she loved cooking for family and friends. Teapot on, table set with a variety of eats. "Are you hungry?" or "Did you eat anything today?" were common questions within seconds of walking into her home. Meat, potatoes, homemade biscuits, squares, cookies or a slice of her pie were usually the first items offered after being greeted. If she couldn't get you with any of those, she would offer a chocolate bar from her "drawer" that she kept stocked with everyone's favourite. If you still said no, you would get served a "Fine then!" Mom's pies were her signature, her love language. Apple, Lemon Meringue, Butterscotch and Cherry pies were her specialties. Many talked openly about looking forward to visiting Antigonish again to have some of her pie. In fact, if one mentioned their favourite type of pie within earshot, you would very likely have that type of pie appear at your door before long. There are many acquaintances, nurses, doctors, and friends of friends who were gifted pies, cookies and cakes as a way of thanks for their kindness or to comfort them during a time of loss.
Mom enjoyed children of all ages and she was quick to act silly and childlike to entertain and was equally entertained by them. She especially enjoyed the little ones, squeezing chubby cheeks and hearing little giggles filled her heart with joy. She had a knack for soothing little ones to sleep. Mom became "Nanny" to her first born grandchild Lisa and to all her grandchildren and great-grandchildren that followed and very many little ones who were drawn to her exuberant love and generosity would also call her Nanny. Next to family and her love of cooking was looking good. A stylish lady, Mom took pride in her appearance. She firmly believed that if you looked good, you felt good. She would match her outfits with shoes, jewelry and nail polish and usually would top it with a stylish hat or pin. Everyday was a fashion show. She loved to share this passion, if you told her you loved her shirt, sweater or earrings, the next time you came for a visit she would have them set aside, ready to give them to you.
Mom shared room in her heart for all of God's creatures. She loved feeding the birds and the squirrels, her favourite being the chickadees that reminded her of her son Kevin. She had many loved dogs and cats during her long life. Mom didn't go anywhere without treats in her pockets, even keeping a bag of treats in her car in case she ran out while on a visit. Mom would feed the animals from the kitchen table because "they're starving!" and much to the amusement of her family, follow up with a comment about how bad it is that these animals are begging her for food.
Mom was an avid reader, filling her hours with a good book or magazine. Mom loved picking berries, even when it included dodging the occasional bear. She loved Malignant Cove beach and all the cherished time spent together there with family over the years. The ocean was a balm for her and she missed swimming immensely as she was no longer able to get in the water since starting dialysis, though she enjoyed sitting in the sun with her feet in the water watching her loved ones playing and laughing around her.
Mom loved game shows, her soaps, and nature documentaries. She always loved to play cards, especially after her weekly bingos were discontinued. Skat was her game of choice so everyone could play. Quarters were always "lent" to those who needed some change. Occasionally, she would use colourful language when someone surprised her with an unexpected defeat; anyone who was called the "B" word during a game would laugh and accept this as a bit of a badge of honour.
Mom had a great sense of humour. She was always finding ways to make you laugh and smile, even during so many difficult times. She loved sharing a laugh and would make jokes and one liners that sometimes were so risque her children would say "Mom! that's so bad" but that never phased her. She loved practical jokes, whether it be startling someone in the dark, putting a rubber spider on someone's shoulder or appearing for a medical appointment wearing an over-the-top colourful wig. Her beloved care team in the dialysis unit knew this all too well and they would sometimes respond with a payback prank, which would bring her and others in the unit many laughs.
Mom's health was guarded for the last several years and every day truly was a gift. Folks often commented, they couldn't believe she was as sick as she was because she looked so good and always had a smile. Her sense of style and ability to coordinate this from head to toe, literally remained, even for her final trip to the hospital. Mom didn't fear death - her biggest heartache leaving this earth was the thought of missing out on all the joy with family...she lamented that she would not be able to meet the two great-grandchildren that will be arriving very soon. Mom endured very many hardships throughout her life; she never let them dull her sparkle. She was one of the most resilient people anyone who knew her had ever met, and truly was an inspiration. Her unshakable Faith and indomitable spirit was unwavering, even through her darkest moments. Mom lived the power of prayer, and we're sure that her prayers for us have saved us many times over the years whether or not we knew it. We take comfort in knowing that although she is no longer with us, she is watching over us, our personal Guardian Angel. No longer will she have to worry because now she can easily keep tabs on us from Heaven.
Mom's home from St. Andrews to Georgeville welcomed all. Summers were spent hosting a full house of family and friends. Mom's heart was big and always expanded. She had an incredible ability to make every person in her life feel extra special. She was selfless. She was our anchor to "home" the glue that bonds us together, the foundation of all of our memories. Her absence has created a hole in all of our lives. Although we wish she could still be with us, we will keep her spirit alive by living the legacy she left behind.
Special thanks go out to Dr. Ron MacCormick and staff in the Oncology Unit; Jill and all her staff in the Dialysis Unit who supported her with love and humor through a pandemic; Amanda Workman; Trish MacKay; Dr. P. Allan; Dr. Tania Sullivan and staff in the ER; Dr. Pereira, Yvette and staff in the ICU; Pastoral Care and the caregivers in palliative care that supported her and her family through to her passing.
Cremation has taken place and arrangements have been entrusted to MacIsaac Funeral Home, 61 Pleasant St., Antigonish. Visitation will take place from 4-7 pm Thursday, August 4, 2022. Funeral Mass 1 pm Friday, August 5, 2022 in St. George Catholic Church, Georgeville, Antigonish Co., Rev. Andrew Boyd presiding. A private burial will take place at a later date in St. Andrews, Antigonish Co.
In support of her love of all children big and small, in lieu of flowers, memorial donations may be made to the Jax Mac Foundation https://www.jaxmacfoundation.com https://www.jaxmacfoundation.com/, the Andrew Milner Memorial Scholarship Fund (https://4ambasketball.com) or to a charity of your choice.
Visitation
4:00 pm - 7:00 pm
Thursday, August 4, 2022
MacIsaac Funeral Home
61 Pleasant St
Antigonish, Nova Scotia, Canada
(902) 863-3414
Funeral Mass
1:00 pm
Friday, August 5, 2022
St. George's Church
Hwy 337
Georgeville, Nova Scotia, Canada
Share Your Memory of
Isabel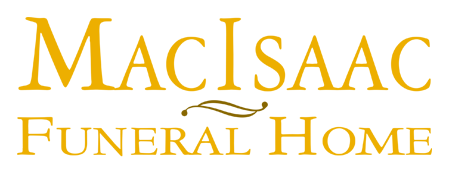 61 Pleasant St
Antigonish, NS B2G 1W6

Looking for something you can't find? We make it easy to get the answers you need. Please feel free to contact us at anytime